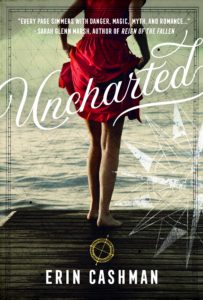 Annabeth is still grieving the death of her mother, a death she feels responsible for, when she has to attend a memorial for friends of her parents at a secluded manor. While there she reconnects with a boy from her past, Griffin, who, like Annabeth, grew up in the orbit of his parents' college friends. But when others in the circle begin to disappear, including Annabeth's dad, she must unravel carefully hidden secrets that endanger her life and save him if she can.
Uncharted by Erin Cashman is full of mystery, intrigue, and a touch of fantasy. As Annabeth uncovers more secrets, she questions who she can believe and trust. No one seems transparent, and she has to rely on her instincts to keep moving forward. Plus, she can't deny that she's falling in love with Griffin, despite the fact that she finds his explanations of events unreliable. The mystery, when it's revealed, is intriguing.
I recommend Uncharted for readers aged 14 and up. A word of caution for sensitive readers: the story contains scenes and descriptions of physical torture and violence.
The publisher provided me with a copy of this book in exchange for my honest review.