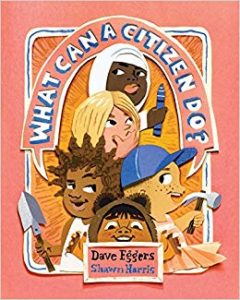 Dave Eggers' picture book, What Can a Citizen Do?, shows children how they can actively work to make the world around them a better place. Activities showcased include helping a neighbor, joining a cause, planting a tree, helping to change laws, and more. The actions taken show that being a citizen is a lot more than being able to vote, because it also means making an impact in big and small ways by taking action.
Shawn Harris's cut-paper illustrations show children actively engaging with the world around them in ways that can make a difference. The book can be a great way for parents to talk with their children about what anyone, even children, can do to make a difference.
The publisher provided me with a copy of this book in exchange for my honest review.