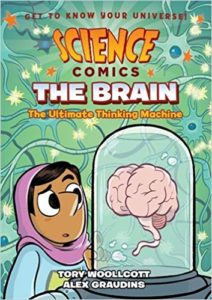 If your middle-schoolers are interested in how the body works, then they'll probably love the new title in the Science Comics series called The Brain: The Ultimate Thinking Machine by Tory Woollcott and Alex Graudins. The graphic novel format, along with a story to follow, is a great way to explain a complex topic.
In this title, Fahama has been kidnapped by a mad scientist who is all brain and his zombie assistant. He wants to steal her brain so he can study it. To stall and give her sister time to realize she's missing, Fahama asks lots of questions the scientist has to answer.
Some of the things she discovers are the different parts of the brain and which parts of the body they control, how memory works, how humans register touch, and more. A helpful glossary of terms can be found in the back.
I recommend The Brain for ages 11 and up.
The publisher provided me with a copy of this book in exchange for my honest review.