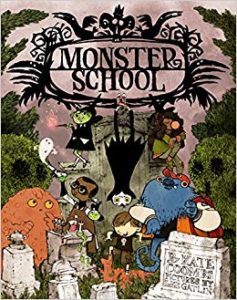 Monster School, written by Kate Coombs, showcases a group of very unusual students. There's a multicultural monster with purple hair and three scaly tails, a vampire who doesn't like homework, a skateboarding pumpkin head, and more. Each has a poem about what it's like to live their lives; which are similar in many ways to students everywhere, but with a twist. For instance, Compare and Contrast starts with these lines:
Ms. Blackhurst is a banshee.
She has burning eyes.
She gets mad a lot.
When she does, she screams
like horrible dreams
in a voice that's filled with rot.
The collection of poems makes a great book to read at Halloween; it's humorous, and the characters experience a range of activities and emotions. Lee Gatlin's illustrations are whimsical and lighthearted, and they go well with the poetry. I recommend Monster School for readers aged 5 to 8.
The publisher provided me with a copy of this book in exchange for my honest review.