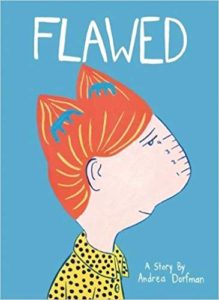 When Andrea Dorfman meets a plastic surgeon named Dave she expects to not like him. She thought plastic surgery made people feel flawed. Part of her reasoning came from her own experience growing up with a large nose. She bonded with a friend who also had a large nose, only to feel betrayed when that friend had nose reduction surgery in high school.
Despite her misgivings, Andrea liked Dave. To learn more about him and understand, she enlisted him in a project where they mailed each other postcards. In each missive, they revealed things about themselves that may have been difficult to express in person.
Dorfman reveals her side of the story in her short, graphic memoir, Flawed. First presented as a time-lapse film made for the National Film Board of Canada, Flawed is a reminder that people can't be judged for how they look, what they do, or other outward signs of appearance. It's only when we get to know the person inside that we can discover what they mean to us. It's a timely message that applies to many aspects of life.
The publisher provided me with a copy of this book in exchange for my honest review.