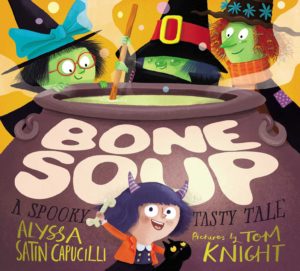 Looking for a new Halloween picture book to read with your kids? Comment below to win a copy of this cute story. Just let us know what you like about the concept of people coming together to create something to share. Comment by midnight (PDT) October 12 (U.S. address only please).
Bone Soup: A Spooky Tasty Tale, retells Stone Soup, the old folktale about many people pitching in to provide a small ingredient that goes into a large pot, creating a tasty meal for everyone.
This cute picture book written by Alyssa Satin Capucilli with pictures by Tom Knight, puts a Halloween twist on the familiar story. As Bone Soup begins, three very hungry witches check their cupboard and find that it's empty, except for a small, dry bone. What should they do? Naggy Witch has a great idea, and she says "Bone soup is the perfect Halloween treat."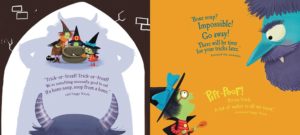 All the witches need to do is go to their neighbors and ask what they can contribute. Soon a monster adds some water, a ghost adds the eye of a giant, and a ghoul plops in a crackly lizard's tail. With a little help from more spooky friends, the witches soon ladle out bowls to the hungry crowd.
The book brings home the message that lots of people working together can create something that all can enjoy, even if they only have a small amount to contribute. Even more fun, a recipe for Naggy Witch's Bone Soup appears at the end, with realistic substitutions for the ghoulish ingredients. For instance, the eye of a giant is an onion, lizard's tail is celery, and wrinkled fingers are actually carrots and parsnips.
I can imagine kids and parents working together to create their own bone soup and maybe even inviting neighbors to join in for a soup gathering. Bone Soup would be a fun book to bring out every October to be read as a lead-in to Halloween. I highly recommend it.
The publisher provided me with a copy of this book in exchange for my honest review.