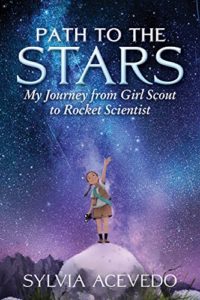 As a young girl growing up in Las Cruces, New Mexico, Sylvia Acevedo pushed back on social and cultural norms that told her a girl could only grow up to be a wife and mother. She liked math, and she liked figuring things out, which helped her do well in school.
After Acevedo became a Girl Scout and started earning badges, she began to realize that she could learn to do anything she was interested in. Her personal drive, as well as her curiosity, led her to bring more stability and planning to her home even though her parents weren't good at those things. As she set her sights on college, Acevedo knew she would have to earn multiple scholarships to make college, and then graduate school, possible.
Acevedo talks about her experience growing up bilingual and poor in New Mexico, and how she eventually earned college degrees, became a rocket scientist, then went on to lead the Girl Scouts of America in her memoir Path to the Stars: My Journey from Girl Scout to Rocket Scientist. It's an interesting story that I expect will inspire girls to dream big and learn how to reach their goals.
I particularly like Acevedo's linking of earning Girl Scout badges, which meant she had to break down what she wanted to achieve into doable steps, to her ultimate realization that she could approach anything she wanted in life that way. It's a lesson that can resonate at any age.
I recommend Path to the Stars for readers aged 10 to 14.
The publisher provided me with a copy of this book in exchange for my honest review.