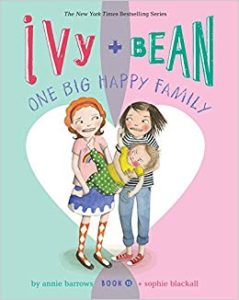 When Vanessa calls Ivy spoiled because she's an only child, Ivy comes up with the solution to change that: get a baby sister. But things don't go well when she and Bean encourage her mom to have another baby. Ivy comes up with increasingly wild ways to get a sibling, which is how she ends up in a park pretending that the neighbor's daughter is a gift from heaven.
Ivy + Bean: One Big Happy Family is a funny look at siblings: wanting them, not wanting them, having them, and borrowing them. Parents and children are sure to get a kick out of the ways Ivy and Bean interact with each other and their friends and the laugh-out-loud ways they decided to solve their problems. It's a great addition to the Ivy + Bean series.
The publisher provided me with a copy of this book in exchange for my honest review.