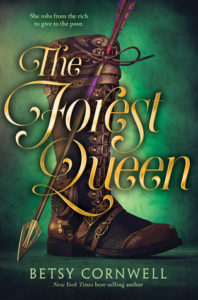 Silvie has always lived a life of privilege as the daughter of Loughsley. But when her cruel brother becomes sheriff of the land and takes over from their aging father, she knows she must take refuge in the forest. Accompanied by her long-time friend, Bird, and a distraught woman named Little Jane, she establishes a haven that attracts others fleeing oppression. Soon she is seen as a revolutionary, robbing from the rich to give to the poor.
The Forest Queen by Betsy Cornwell is a compelling retelling of the tale of Robin Hood and his band of merry men, with women serving as the main characters. The change in perspective is interesting, with the women concerned with issues like sexual assault and childbearing as well as surviving in the forest during winter.  As with any good retelling, The Forest Queen creates characters that add depth to the story, while changing the details enough so the new tale feels fresh, like a good story in its own right.
I found The Forest Queen to be imaginative and fun, and I recommend it for readers aged 13 and up.
The publisher provided me with a copy of this book in exchange for my honest review.