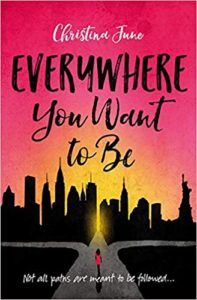 After a difficult senior year recovering from an injury, Tilly has the chance to do what she loves during a summer in New York City: contemporary dance. She hasn't told her mom, but if all goes well she'll end up with an offer to work for a dance company and skip going to college. But first she must make it through weeks that test her confidence and endurance, patch things up with an old flame, and avoid being sabotaged by another girl in the group.
Everywhere You Want to Be by Christina June is about facing your fears and learning from your mistakes to  become a better person while pursuing your passion. Tilly gets great advice from her stepsister and her grandma, and she connects instantly with her roommate, but ultimately she has to decide how to navigate the pitfalls that arise as well as the opportunities. Her challenges should be great points of discussion for mother-daughter book clubs or anyone grappling with similar issues in their own lives.
I recommend Everywhere You Want to Be for readers aged 14 and up.
The publisher provided me with a copy of this book in exchange for my honest review.