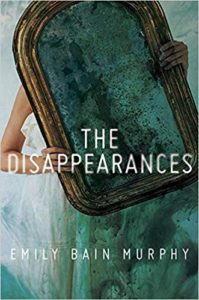 Every seven years something important disappears for the people of Sterling: the sense of smell, the ability to see stars, images in mirrors. The townspeople, along with those of two nearby cities also affected, have learned to cope by inventing potions that can temporarily restore the lost senses, but they all live in dread of what will disappear next.
Sixteen-year-old Aila Quinn and her younger brother Miles move to Sterling when their father is drafted to serve in World War II. Their mother, Juliet, grew up in town, and some believe her birth 35 years before set off the disappearances. Aila must work with friends and unravel a family secret to clear her mother's name and stop the disappearances for good.
The Disappearances by Emily Bain Murphy weaves a mysterious tale with a bit of the supernatural. By necessity, people from Sterling are secretive. They closely guard the pain and uncertainty about the disappearances to keep from being labeled freaks by the rest of the country. Aila is suspicious to them because she is Juliet's daughter and because she was raised elsewhere. A side story follows the exploits of Stefan, a mysterious person Aila's mother knew and loved, but who harbors a plan to avenge an old slight.
The story unfolds step-by-step, drawing on clues hidden in Shakespeare's plays, to lead readers to a satisfying conclusion. I found The Disappearances to be totally engrossing, and I recommend it for mother-daughter book clubs and readers aged 13 and up.
The publisher provided me with a copy of this book in exchange for my honest review.