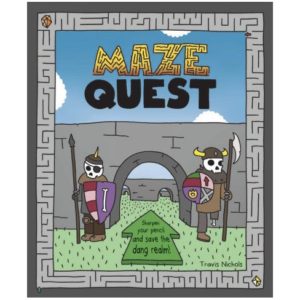 Maze Quest by Travis Nichols is great for kids who love to solve puzzles tied to a story. The challenge is laid out at the beginning after readers are encouraged to find their way through the maze of a messy bedroom into the secret Quest Office. There, the challenge is presented to find pieces of a sword, gems, coins, keys, and items to help readers navigate mazes throughout the book.
It's fun to match the storyline to the mazes themselves, which wind their way through a flower garden, a wave-tossed ocean, a pyramid, a beehive, a boneyard and other inventive paths. Some paths are easy to work through, others are more complicated. The back and forth keeps things interesting throughout. Even the inside front cover features a maze, with a place for young puzzle solvers to post a photo saying who the book belongs to. The story and the mazes create an adventure sure to engage kids for hours of fun. I recommend Maze Quest for ages 6 to 10.
The publisher provided me with a copy of this book in exchange for my honest review.