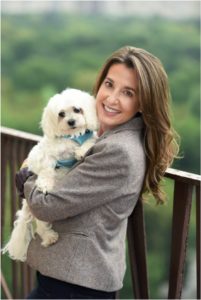 Marie Unanue, author of the upcoming book The Adventures of Phatty and Payaso: Central Park, is on a mission to help kids learn to be more kind. Referring to what she does as being a "kindness advocate," Unanue has written a book that the Archbishop of New York has described as "a fun and engaging fable which shows the power of friendship, kindness, and self-confidence."
Here, Unanue talks about writing for children, her kindness campaign, and her children's book.
How did you decide to become a writer?
MU: Writing always came easy to me, I loved the freedom and excitement that came along with creating a story. After many years as an event planner, I enjoyed sharing my events through writing about them so other people could learn and experience the planning process. It wasn't long before I started writing about destination weddings and how to plan, orchestrate and run them. Before long, my blog had a large following and the transition to writing for not only work, but enjoyment quickly ensued. Once I made the choice to write a story for kids, the process took on a pair of legs and just started running.
What do you like best about writing for children?
MU: One of the best things about writing for children is coming up with stories and situations that will not only engage and challenge children but also coming up with situations to make them laugh. The second-best part about writing for children is how young it makes me feel, while I am writing I love that I can feel like a kid myself.  When I am writing anything is possible, animals can talk, unicorns are real and if it worked in my story, I could even make a flower sing. Coming up with fun and outrageous plots to keep the kids turning the page and excited about reading excites me.
What do you find the most challenging?
MU: While writing for children is exciting, there are moments when I worry that maybe I have taken a situation too far or perhaps I have crossed a line.  I'm always cautious when writing any scene that could come across as violent or too dangerous with fears that a child may attempt to do this on his or her own. Clearly, when you see the movies that come out for kids today they don't have any issues pushing the envelope as far as possible, but for me, I want to play it safe and be careful not to offend any parents or scare any kids.
You refer to yourself as a Kindness Advocate. Can you tell us a little about what that means?
MU: My goal is to spread kindness and do whatever I can to encourage adults and kids to do the same.  A kindness advocate goes out of their way to do kind things for other people and works hard to be as kind as possible at all times. We are inviting kids to visit the LetsAllbekind.com website and print out their own "Be A Kindness Advocate" sign with hopes that they will not only do something kind for another person, but also share it by taking a photo of themselves with the sign. By sharing the photo and their act of kindness, they will be encouraging other kids to do the same.  We are hoping to start a movement.
Adults and kids can be a kindness advocate too by:
Be kind to the elderly

Be patient with others

Be kind to animals

Be supportive of your classmates

Be inclusive by being sure to include everyone in your games or plans

Be kind to those kids that struggle to fit it

Be aware of what makes someone a bully and be sure to never bully or manipulate your friends

Be willing to volunteer

Be courteous and be sure to say please and thank you

Be conscious of others and their feelings

Be watchful how you talk about others, be sure not to spread gossip or meanness

Be the best you that you can be

Be willing to make a positive difference in someone else's day

Be willing to help out family & friends in need

Be sure to have a positive attitude

Be understanding, compassionate, sympathetic & empathetic
Your book "The Adventures of Phatty & Payaso: Central Park," includes characters who are bullied. Why do you think it's important for children to read stories that contain bullying situations?
MU: This is such a wonderful question because so many kids are bullied today.  Allowing kids to read about others being bullied not only helps these kids understand they are not alone, it also shows them examples on how to deal with the bullying as it occurs. My book The Adventures of Phatty & Payaso is a wonderful example on not only how to handle a bully, but also how to forgive one.  I urge kids to show the bully kindness, to understand that the person bullying is likely insecure and bullies to make themselves feel better. After the kids let a parent know it is happening, I still urge the child to remain calm. To always be the bigger and kinder person.
I understand you talked to children about some of the issues you bring up in Phatty & Payaso. How did that influence the direction you took with the book?
MU: I not only spoke with children regarding bullying, I let them read one of the manuscripts and then tell me if there was anything I missed or could add that would help other children or readers identify more with the situation. I asked the children to tell me what they thought so I could add to help others kids feel better and help their situation. While I was bullied as a child, so much as changed.  Social media now takes the bullying out of the school yard and onto a more social platform. It is even harder today for kids thane ever when it comes to bullying, I am hopeful that this kindness campaign helps kids understand that kindness is the answer.
I know you hope to bring a message of inclusivity to children reading the book, but do you expect they will have fun reading it too?
MU: The book is set like an adventure to ensure the kids feel the sense of urgency and excitement to keep them turning the page.  I also wanted to make the kids laugh while at the same time helping them understand all aspects of bullying. It was important for me as a writer to show the kids the perspective of the bully.  So they could understand that a bully is most likely an insecure person that is lashing out to make themselves feel more important or popular. It was equally important to myself as a writer that the children not only enjoyed reading the book as much as they took many important lessons away from it.
Is there anything else you'd like to share with readers at Mother Daughter Book Club. com?
MU: If there is anything I would love mothers and daughters to take away from this story is something that my mom always taught me. My mother always taught me, in life you must always treat other people the way you want to be treated.  If every kid had this motto, the world would be an even better place.