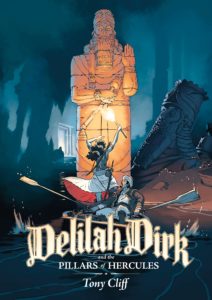 Delilah Dirk and the Pillars of Hercules by Tony Cliff finds the graphic-novel heroine on an adventure to find a rumored sunken city. The tale begins in Turkey, where Dirk outsmarts a despot in control of a coastal fortress to allow a ship safe harbor. In the process, she meets a Dutchman who accompanies her and her friend Selim into the desert where they discover treasure. They also find inscriptions telling of a city built long ago called the Third Pillar of Hercules.
The trio, hounded by one of Dirk's old enemies, set off to find the city. Their adventure takes them from Turkey to Algiers and back again before leading them to Spain, where they end their quest and discover hidden agendas.
Fans of the Delilah Dirk series will find more of what they love in this installment: swashbuckling action, a mystery to be solved, and Dirk's defense of the good against nefarious characters. It's all beautifully drawn and richly colored to lead young readers on their own great adventure. I recommend it for age 12 and up.
The publisher provided me with a copy of this book in exchange for my honest review.