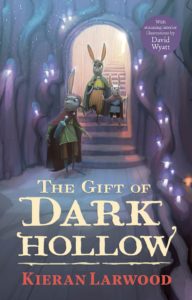 Longburrow: The Gift of Dark Hollow continues the tale of Podkin One-Ear, a young rabbit determined to save his community from the threat of the Gorm—evil mutations of rabbitkind. Teaming up once again with his older sister Paz and younger brother Pook, Podkin sets off in search of a Gift of the Goddess that may be able to cut through iron and defeat the enemy.
Author Kieran Larwood has created a second book in this fantasy series that's just as full of adventure as the first. Podkin, along with his family and friends, sets off once again on a quest that will bring him into contact with new allies and old enemies. To find success, he will have to face his fears and draw on the strengths of everyone in his group.
The Gift of Dark Hollow is great fun and should leave fans of the series eagerly anticipating the next title. I recommend it for ages 9 to 12.
The publisher provided me with a copy of this book in exchange for my honest review.