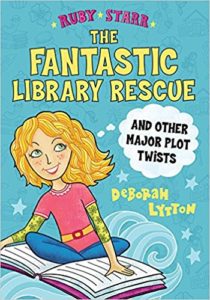 Ruby Starr loves books. She and her best friends are in a book club at school, and they often head to the library for suggestions when they want to choose their next selection. So when Ruby finds out that the library's funding may be cut, which means fewer books and shorter hours, she decides to do something to help. Along the way she learns an important lesson about friendship too.
Ruby Starr: The Fantastic Library Rescue by Deborah Lytton highlights Ruby's great imagination and her efforts to balance what's important to her in life: family, doing well in school, being a good friend, and making a difference for something she believes in. Illustrations of Ruby's daydreams about all kinds of situations keep the story fun and interesting as Ruby meets challenges and figures out how to meet them.
This second in the series is a good follow up to the first. Ruby's struggles and successes are sure to resonate with 9- to 12-year-old readers, who may also feel empowered and inspired to work for a cause of their own after reading the book.
The author provided me with a copy of this book in exchange for my honest review.