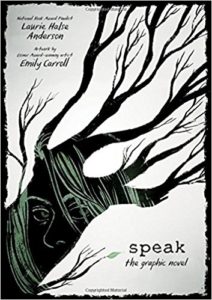 Laurie Halse Anderson's Speak has been informing teens about sexual assault and speaking up for themselves since it was published to critical acclaim in 1999. Now, Anderson has collaborated with Eisner-Award winning artist Emily Carroll to adapt the story into a graphic novel sure to appeal to first-time readers as well as fans of the original book.
The graphic novel format is particularly relevant to the story of how a high school freshman uses art and a project assigned for class to break through her silence about a sexual assault. In the aftermath of the incident, which she doesn't tell anyone about, she loses friends, sees her grades spiral down in school, and gets into trouble at home. She wonders if she was at fault.
Carroll's stark images in black and white and grey match Melinda's depressive mood and dark thoughts without being oppressively heavy. And they let us see Melinda's world through her eyes, both the things that inspire her, like a Maya Angelou poster, and the things that repel and frighten her, like being stuck in detention with her attacker, who blows subtly on her hair and neck.
Speak: The Graphic Novel tells Melinda's story in a different format than the original, which means the novel has the potential of reaching an even broader audience than before. I highly recommend it for readers aged 13 and up.
The publisher provided me with a copy of this book in exchange for my honest review.