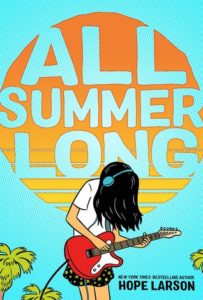 Thirteen-year-old Bina can't wait for school to be over and summer to start. But when she finds out her next-door-neighbor and best friend Austin is spending a month at soccer camp, she realizes she won't be having her usual summer adventures. Often finding herself alone and lonely, Bina discovers new interests and friendships in unexpected places.
All Summer Long is Hope Larson's graphic novel about growing up, evolving friendships, and self-discovery. Bina, like most people, is comfortable doing what she's always done. Without Austin she spends a lot of time bored and wondering what to do. When she tries new things, she sometimes makes mistakes and misses the mark, but she also discovers what she really likes.
In the end Bina finds change can bring new beginnings even as old things end. That's a good thing to remember not only for tweens and teens, but for adults as well. I recommend All Summer Long for ages 11 and up.
The publisher provided me with a copy of this book in exchange for my honest review.