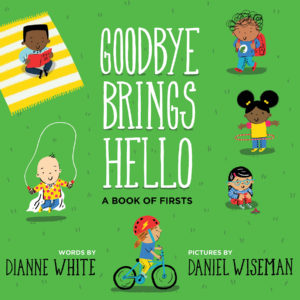 Young children are often frightened by the prospect of change, which they may see as uncertain and moving beyond their comfort zone. Dianne White's picture book, Goodbye Brings Hello, can help them see that change can bring positive things into their lives.
Daniel Wiseman's beautiful illustrations start the book with a depiction of trees changing with the seasons to set the tone that change is normal and expected. The story starts off depicting a child on a swing, and the words, "There are many ways of letting go. With each goodbye, a new hello." The child is uncertain as he sits on a still swing, but on the next page you see him smiling as he holds the lines and swings through the air.
The book helps children see change as positive at common times of worry, such as outgrowing clothes, traveling to visit grandparents, learning to ride a bicycle, getting a haircut, and more. The book ends with leaving parents at home and starting school, one of the biggest worries of all.
I believe Goodbye Brings Hello is a great book for parents to read aloud, helping them calm common childhood fears so their children can see the positives of growing up.
The publisher provided me with a copy of this book in exchange for my honest review.