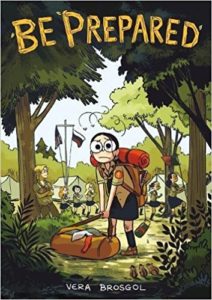 Nine-year-old Vera feels like the odd girl out among her friends, who get super-nice toys, have expensive birthday sleepovers, and go away to summer camp. As the daughter of a single-mom Russian emigrant, she lives in a house where money is tight and possessions are modest. So when she finds out about a Russian Orthodox summer camp near her home, she convinces her mom to sign her and her little brother up.
Be Prepared, a graphic novel by Vera Brosgol tells the mostly-true-tale of Vera's time at camp. As the youngest in a group of girls, Vera often finds she still doesn't fit in. She encounters mean pranks and is often lonely. She feels even worse when it seems her younger brother is having a great time. By the end of camp she has learned a lot about herself as well as how to make friends and be a good one.
Be Prepared provides an honest look at conflicting emotions and experiences kids can have at summer camp. When kids are required to live with each other 24 hours a day for weeks on end, moments of happiness and sadness are likely to ebb and flow depending on lots of variables. Even confident campers are likely to face challenges, and newcomers may have the hardest time adjusting.
Brosgol's story is sure to resonate with anyone who's had trouble fitting in and finding their way among a group of friends or in new situations. Her graphic illustrations show her as a wide-eyed, bespectacled nine year old who cycles quickly through emotional highs and lows depending on how confident she feels. It's a great story for those who have been to summer camp as well as anyone who hasn't always been part of the in crowd while they were growing up.
I recommend Be Prepared for readers aged 9 and up.
The publisher provided me with a copy of this book in exchange for my honest review.