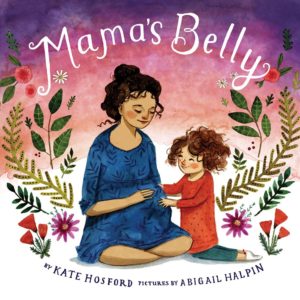 Waiting for a new baby to arrive can be an unsettling time for an older sibling, who may feel uncertain about what a new baby means to the family. Will her parents still have time to play? Will she have to share her favorite things? Will her mom and dad still love her?
Mama's Belly, a picture book by Kate Hosford with pictures by Abigail Halpin addresses the happy anticipation as well as the worries in a way that can help parents talk about them with their child. It begins with a girl talking about the tangible change she can see: "Mama has a belly rising up, like a wave. Inside is my sister, waiting to meet me."
The girl sings to the baby inside and she wonders if her sister will look like her. She also tries to help when her mom's back hurts and she is too tired to play with her.
At bedtime, when worries are easier to talk about, she asks, "When my sister comes, will you have enough love for both of us?" It's a common concern for children about to become older siblings. Reading the mom's response, "More than all the stars in the sky," can help moms reassure their own little ones.
Abigail Halpin's illustrations are full of color and flowing lines, painting peaceful scenes that are reassuring in their own way.
Mama's Belly makes a great gift for expecting parents. It can be read and appreciated throughout a pregnancy as well as after a new baby's arrival.
The publisher provided me with a copy of this book in exchange for my honest review.