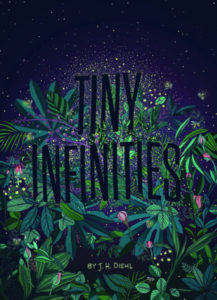 Swimming is the one constant Alice can count on when her family starts to fall apart. When she concentrates on the rhythm of moving from one end of the pool to the other she doesn't have to think about her mother's depression or that her father has moved out. But her new friend Harriet and a babysitting job with the mute girl next door prompts her to move toward something new not just away from her problems.
Tiny Infinities by J. H. Diehl is a coming of age story that explores family dynamics related to changing relationships, what it means to believe in yourself and your own strengths, and the role friends can play in helping you look at the world in a new way. As a pre-teen, Alice has a lot of responsibility helping to cook, clean, and look after her mother. She's on her own a lot, so she has a lot of time to worry about her family. But her responsibilities bring out a confidence in her about what she can accomplish. With a little help from her friends, she can prove herself to the adults in her life.
I recommend Tiny Infinities for readers aged 9 to 13.
The publisher provided me with a copy of this book in exchange for my honest review.