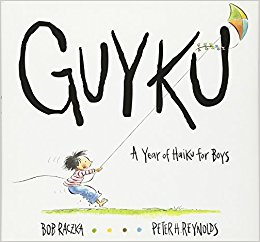 What do you have when you write a poem that's three lines long, a total of 17 syllables, and it speaks about something a guy would do? Guyku, of course. Bob Raczka, who wrote Guyku: A Year of Haiku for Boys, says "haiku is a wonderful form of poetry for guys" who like to catch bugs, climb trees, skip stones and throw snowballs.
The haiku here is divided into seasons, highlighting lots of different activities kids can do in nature.
Here's a sample from spring:
The wind and I play
tug-of-war with new kite.
The wind is winning.
Here's another from winter:
Icicles dangle,
begging to be broken off
for a short sword fight.
Peter H. Reynolds's illustrations are cute and capture the fun, easy-going spirit of kids having outdoor adventures. In a note at the back Reynolds says he was thrilled to work on the book, because "the invitation for boys to swim in the 'poem pond' needs to be issued more often, and more loudly.
The short poems in Guyku are a great way to get kids to read poetry and possibly get inspired to write their own. I recommend it for ages 5 to 8.
The publisher provided me with a copy of this book in exchange for my honest review.