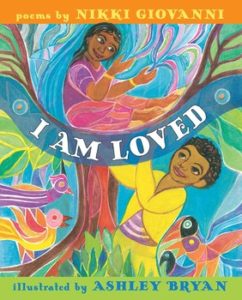 The art of an award-winning illustrator melds with the poems of an award-winning author for the picture book I Am Loved.
Ashley Brian's illustration are colorful, rhythmic, and they stand out as pieces of art in their own right. He chose a dozen Nikki Giovanni poems for this collection, poems that celebrate familial love, friendship, and nature. Here's an excerpt from the poem, Because.
Because
I wrote a poem
for you because
you are
my little boy
I wrote a poem
for you because
you are
my darling daughter
It's a sweet sentiment that young children are sure to cherish when a parent reads the words to them.
I Am a Mirror, a poem near the end, encourages the child to look in the mirror on the page and think about the grandparents and ancestors who have come before him, gain strength from their stories, and know that he is loved.
I Am Loved makes a great addition to any child's bookshelf both as a way to encourage an appreciation for poetry and art, as well as to celebrate the closeness of family relationships.
The publisher provided me with a copy of this book in exchange for my honest review.