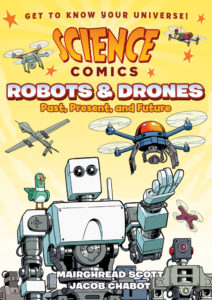 When I think of robots and drones, ancient Greece doesn't come to mind. In fact, an early kind of robot called an automaton let Greek people drop in a coin to get water. In the 1600s Japan, a moveable robot could serve tea and collect empty cups. These stories and others covering past and present-day inventions are told in Robots and Drones: Past, Present, and Future by Mairghread Scott and Jacob Chabot.
Part of the Science Comics graphic novel series, Robots and Drones provides a great introduction to young readers aged 9 to 12 about these gadgets and the role they play in our lives. It also encourages them to get into building their own through robotics groups and home kits. The narrator is a robotic bird that takes readers on a journey to help them learn how robotics work. It also imagines what some inventions will bring in the future, and encourages kids to dream up new ones. A glossary in the back defines the terminology.
Robots and Drones does a great job of making science seem accessible, and it seems likely to encourage kids to get interested in learning more and experimenting on their own. I expect kids will love it.
The publisher provided me with a copy of this book in exchange for my honest review.