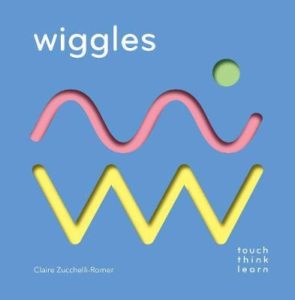 "Your little fingers wriggle, your little fingers wiggle." The opening line to TouchThinkLearn: Wiggles by Claire Zucchelli-Romer sets the tone for what's to come in this interactive board book. Wiggles teaches toddlers concepts like left and right and up and down, and fast and faster as they poke, and tap and swirl their fingers along colored, grooved shapes.
The fun starts with a grooved rectangle bordering the first pages. Parents can guide little fingers as the words instruct: "So take one finger from your left hand, and take one finger from your right hand. They're going to take a spin all around the track."
The pages and grooves are sturdy and colorful, encouraging movement to enhance multilevel learning. Fingers tap, hop, slide, go slow and fast, ride waves, dance, swirl, and zigzag. Children learn coordination along with colors and shapes.
Wiggles is fun for parents to read too, with words that create sounds and have a rhythm when spoken aloud. They may even find themselves drawn to the irresistible grooves with their own fingers.
The publisher provided me with a copy of this book in exchange for my honest review.