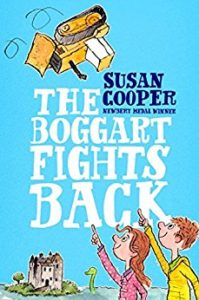 When twins Allie and Jay Cameron accompany their father on a trip to his hometown in Scotland, they are wowed by the seals in the loch, Castle Keep on a little island, and the beauty of the village where their grandfather lives. But trouble is also in the air, caused by a man called Trout, a mega-rich real estate developer who has his eyes on the town for a new hotel resort and golf course.
The Camerons try to stop Trout by appealing to the local planning commission, but they have little hope until they discover that two of the ancient things, a magical being called the Boggart and his cousin Nessie, have decided to help them out.
The old legends of Scottish magical beings meld with a modern-day fight to keep a way of life and a place pristine and peaceful in Susan Cooper's The Boggart Fights Back. The Boggart and his cousin like nothing more than to play tricks, but Trout is used to dealing with resistance from the locals. He simply puts more money and people into his project so the work will go faster. To change Trout's mind, the Boggart will need the help of other magical beings.
A parable for our times, The Boggart Fights Back champions the old ways and the underdog. I recommend it for readers aged 9 to 12.
The publisher provided me with a copy of this book in exchange for my honest review.