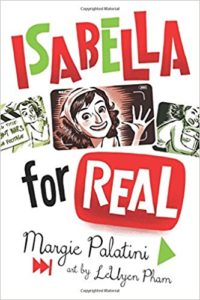 Isabella is in a pickle. When she started at a fancy new private school her new friends thought she was secretly someone rich and famous, and she went along with their misperception. Then videos her cousin took of her family's real life went viral, and her friends discovered the truth. Over the course of one day she will try to make things right while dodging the media, relying on her old best friend, and getting help from her crush.
Isabella for Real by Margie Palatini is a cute look at how a little fib can spiral into something larger, especially these days when home videos can go viral and the whole world can see what's real. Isabella is part of a large Italian-American family of several generations that lives on the same block in New Jersey. The eccentric characters are endearing, if sometimes hard to follow. The cast of characters illustrations at the end help readers keep everyone straight.
Graphic novel-like scenes with illustrations by LeUyen Pham provide fun breaks to the narrative while keeping the story moving along. Isabella for Real is a quick, fun read for ages 9 to 12. And don't be surprised if it leaves you wanting to try all kinds of eggplant dishes, perfect for planning a book club meal.
The publisher provided me with a copy of this book in exchange for my honest review.