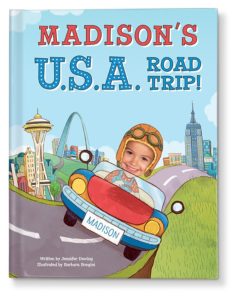 The U.S.A. Road Trip! picture book and map from I See Me! publications lets adventurous kids learn more about the U.S. and what can be found in the different states. And since pages throughout the book can be personalized with the child's name, young readers can have fun looking for their name while checking out the cute illustrations. Parents can personalize gender, skin tone and hair type for the child depicted in the book.
The review copy I received was personalized for Oregon, where I live, and the Oregon page featured the state flag, state flower, state bird, and a map outline with the capital city highlighted. The last pages include a listing of all states along with an image of the state flag and facts about each capital, flower and bird. There's also a box that can be checked off as a record of when the child visits a state.
The scratch off map that comes with the book includes more info, and it's a fun way to learn either along with the book or as a travel companion. If you like personalized books for your child, the publisher offers lots more titles at its website: iseeme.com.
The publisher provided me with a copy of this book in exchange for my honest review.