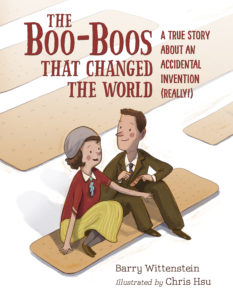 Band-Aids are such a big part of everyday life it's hard to imagine a time when they didn't exist. But in 1917, when Earle Dickson married Josephine Knight, the only way to deal with a cut or scrape was to hold a towel to it until it stopped bleeding. And since Josephine was accident prone, she used a lot of towels.
Earle, who worked for a cotton buyer, came up with the brilliant idea of putting gauze on a piece of tape that Josephine could apply with one hand. Recognizing that his new invention could help others too, he took it to his boss and suggested they manufacture a version to sell.
The story of how Band-Aids began is told in Barry Wittenstein's picture book, The Boo-Boos That Changed The World: A True Story About an Accidental Invention (Really). What seems to be a simple story feels fun and whimsical as Wittenstein tells it. Several times he declares it's THE END of the tale, only to say there's more to it. And indeed there was, as Band-Aids didn't catch on right away. It took perseverance and giving out lots of free samples, especially to Boy Scouts, before people began to see how useful they could be.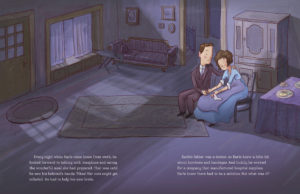 Illustrations by Chris Hsu are evocative of the early 1900s when the events took place, and they match the fun and playful tone of the story. An author's note at the back along with an Earle Dickson timeline and list of other medical inventions from the era provide interesting information about this true story. There's also a Learn More Page with suggestions for website and videos to encourage further exploration.
The Boo-Boos That Changed the World tells a story rich in history but also relevant to daily lives today. It's the kind of picture book that will be pulled off the shelf for rereading over and over again.
The publisher provided me with a copy of this book in exchange for my honest review.