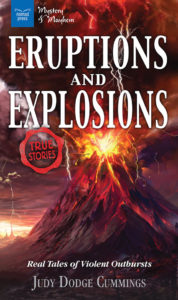 Eruptions are a part of nature, while explosions often result from man-made mistakes. Judy Dodge Cummings highlights five outbursts that had major impact on the world in Eruptions and Explosions: Real Tales of Violent Outbursts, a title in the Mystery & Mayhem series.
Each chapter tells an incredible story, giving details that sound more like fiction than real life. Those stories include the eruption of Mt. Tambora in 1815, an event that changed climate for several years and led to famine, a steamboat explosion that took the lives of Civil War prisoners of war headed home, the atomic bomb dropped on Hiroshima, the nuclear meltdown at Chernobyl, and the blowout at the Deep Horizon oil rig.
In each human-caused explosion, Cummings discusses the personal errors and hubris that led to the disaster. It's a sober reminder of how quickly things can go wrong when elements of mass destruction are involved.
I highly recommend Eruptions and Explosions as well as the whole series for anyone who loves to read true stories about people and events in the distant and recent past.
The publisher provided me with a copy of this book in exchange for my honest review.