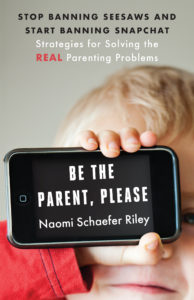 Using technology on multiple devices has become such a ubiquitous part of our lives that it's hard for parents to know how to set limits on programs and screen time for their children. They may also wonder if educational programs are okay even when games are not. In her book, Be the Parent, Please; Strategis for Solving the Real Parenting Problems, Naomi Schaefer Riley looks at the latest research and offers advice and support for parents who want to do things differently.
Each chapter tackles a different stage of childhood development and looks at ways babies and kids are using technology. One problem, Riley says, is that parents portray maturity on their children even when they are not ready for increased control over what they see and do with technology.
Riley offers strategies for parents to make a plan for how much and what kinds of devices and technology they allow at what age and then offers  advice on how to stick to their rules. Each chapter has pull-out tips with ideas for taking control and cutting back. Riley says that while the research on the use of technology is still evolving, she encourages parents not to let their children be lab rats in the experiment.
Be The Parent, Please is sure to be welcome by parents who want to take back control of the technology use in their households.
The publisher provided me with a copy of this book in exchange for my honest review.