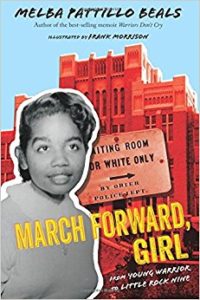 From an early age, Melba Pattillo Beals chafed against the rules African Americans had to follow in the Jim Crow South. Born and raised in Little Rock, Arkansas, she only felt safe when at home with her mother and grandmother, surrounded by friendly neighbors and friends. Beals tells her story in a gripping memoir for young readers, March Forward, Girl: From Young Warrior to Little Rock Nine.
When she had to venture out she faced discrimination and prejudice everywhere. Drinking fountains, bathrooms, lunch counters were marked "Whites Only." Blacks were not allowed to touch merchandise in grocery or department stores; instead they had to point to what they wanted or hand a list to a clerk.
At night, her family drew the blinds and kept quiet, afraid that members of the Ku Klux Klan would seek them out for some infraction. Beals saw the injustice of it all, but her mother and grandmother cautioned her to keep quiet. The time would come, they told her, when she could push for equality.
That time came during the integration of Little Rock schools, when she and eight other students from her community attended the all-white school despite threats on their lives.
At times Beals's story is hard to read — she witnessed a lynching and narrowly escaped from the Klan — but she tells it with such candor that I found it hard to turn away from the truth of her experience. Her descriptions of the good times in her youth, events with the church community, time spent at her grandmother's side, and accounts of daily activities, paint a vivid picture of what life what like in the 1940s.
I thoroughly enjoyed March Forward, Girl and only wish it would have covered more information about Beals's experience as one of the Little Rock Nine. Even so, I highly recommend it for mother-daughter book clubs and young readers aged 10 to 13.
The publisher provided me with a copy of this book in exchange for my honest review.