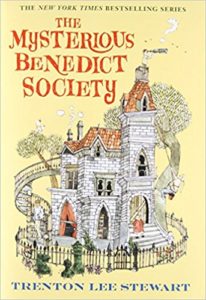 Four children with no parents around to care for them are brought together under unusual circumstances and given a mission. They are to stop the plans of a man who intends to take over the world. The four, Reynie, Sticky, Kate and Constance, discover that only children can succeed in the task, and only by combining their talents will they prevail.
The Mysterious Benedict Society by Trenton Lee Stewart is a great adventure for readers who love to solve puzzles and mysteries. The four heroes get into pickles over and over again, each one leading them closer to figuring out how to stop the evil Mr. Curtain. Each time they think they can't go further, they find ways to carry on. As they discover more about each other and their sometimes hidden strengths, their friendship grows in unexpected ways. It's a great testament to the way different personalities can develop separate skills and ways of approaching problems. In the end, teamwork wins the day.
I recommend The Mysterious Benedict Society for mother-daughter book clubs and readers aged 9 to 13.
My daughter owns a copy of this book and I read it for review.