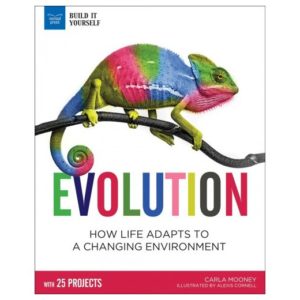 Throughout the long history of the Earth, plants and animals have evolved as conditions around them have changed. Evolution: How Life Adapts to a Changing Environment by Carla Mooney takes on the task of explaining what evolution is and how it happens. Chapters talk about topics like how evolution works, identifying species, evidence for evolution and why it matters, as well as other topics. Each chapter contains pullouts with words to know and sidebars highlighting other interesting information. 25 projects are designed to give hands-on learning experiences about many of the concepts.
Evolution can be used by teachers in the classroom to enhance lessons, or by parents who homeschool their children. While the book says it's recommended for ages 9 to 12, I found some basic concepts mixed with advanced concepts that may be more difficult for that age group to follow. For instance, one list of "words to know" included the words habitat and migration, which seems appropriate for 9 year-olds, but it also included the terms reproductive isolation and allopatric speciation, which would definitely be more challenging. Evolution can be a great tool for the right reader. I recommend parents and teachers consider where it can fit in with other learning.
The publisher provided me with a copy of this book in exchange for my honest review.