T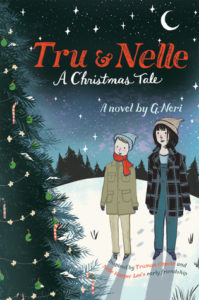 ruman Capote and Nelle Harper Lee are well known writers, yet young readers may not know that the two met when they were children in the town of Monroeville, Alabama. Their friendship continued even though Capote often lived elsewhere, and as adults they helped each other with their writing. Author G. Neri wrote about the two as children, weaving in facts with fiction in the novel, Tru & Nelle. His follow up, Tru & Nelle: A Christmas Tale, revisits them at another time in their lives, Christmas of 1937.
Once again Neri takes basic facts from the time then adds fiction to create a story that shows the simple pleasures of celebrations during the Great Depression as well as the hardships some people suffered. The result is an often light-hearted tale that also delves into the darker side of the era, especially for black people who faced danger regularly while living in the South under Jim Crow laws.
Writing about iconic literary figures is no easy task, especially when Lee herself fictionalized her childhood in her novel, To Kill a Mockingbird. Yet Neri succeeds in helping readers understand the real lives and personalities of Capote and Lee as well as the people who shaped them. I recommend Tru & Nelle: A Christmas Tale for readers aged 10 to 13.
The publisher provided me with a copy of this book in exchange for my honest review.