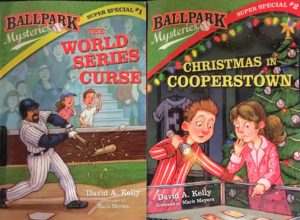 Cousins Mike Walsh and Kate Hopkins love solving mysteries, so when they discover a vintage baseball card has been stolen from the National Baseball Hall of Fame in Cooperstown, New York, they are on the case. The list of suspects is short, but catching the thief with evidence proves a challenge. They'll have to use every trick they know to return the purloined card back where it belongs.
Christmas in Cooperstown by David A. Kelly is just the kind of mystery that's great for young readers aged 6 to 9. The young protagonists are never in true danger as they use their wits to solve a crime. Part of the Ballpark Mystery series, the story is followed by real information about the National Baseball Hall of Fame and the invention of baseball. There's also a recipe for muffins made with blueberries and chocolate chips. The combination of fiction, nonfiction, and a recipe should satisfy lots of readers.
Easy-to-read chapters and cute illustrations by Mark Meyers keep kids turning pages and having fun while building reading skills. There are lots of titles in the whole series, and the stories are likely to be read more than once as kids revisit clues in the story.
The publisher provided me with a copy of this book in exchange for my honest review.