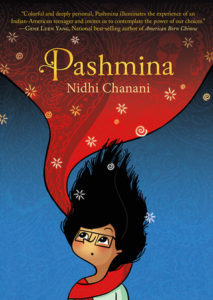 Priyanka doesn't understand why her mother won't talk to her about life in India or the father she has never known. Born in the U.S., Priyanka feels the tug of two cultures: the food and traditions of her mother's home country and the modern customs of her American friends.
Then Priyanka finds a Pashmina shawl, and when she wraps it around her she is transported to India, where she sees beautiful sights and enchanting landscapes. She convinces her mom to send her on a trip to visit her aunt, where she discovers the truth about her mother's past and the complicated world of modern India.
Pashmina by Nidhi Chanani delves into the world of first-generation American children of immigrants. Parents often want to retain the culture of their birth country, reflected in food, clothing, religion, and more, while integrating into their adopted land. They may also reject parts of their heritage, leaving their homeland to escape oppression of some kind.
As a teen, Priyanka is confused by her mom's refusal to talk about her past, embarrassed about her name, and unsure about how she fits in. When she sees the real India, not just the one of her dreams, and her mom finally opens up to her, she learns how to honor both cultures in her life.
Pashmina is a great exploration of identity that touches on female empowerment. I highly recommend it for all readers and mother-daughter book clubs with girls aged 9 to 15.
The publisher provided me with a copy of this book in exchange for my honest review.