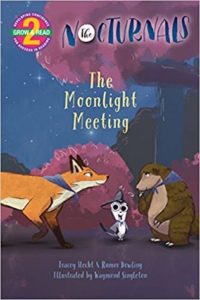 Young children can find inspiration to read through Grow & Read, an early reader program that spins off from The Nocturnals series. The first book, The Moonlight Meeting by Tracey Hecht & Rumur Dowling, introduces the main characters while also revealing a bit about their real animal characteristics.
Tobin is a shy pangolin who lets out a stinky gas when he's startled. Bismark is a brash sugar glider who's a bit aggressive and quick to take offense. Dawn is a fox, a thinker who comes up with solutions to conflict. The three meet and figure out a way they can all be happy sharing one juicy pomelo.
The Grow & Read program was created under the supervision of reading specialists and that shows in the way the book is structured. It lists a level on the front that corresponds generally to an age group, and there's light copy accompanied by illustrations on every page. Chapters are short, and the story includes well known words as well as more challenging ones to increase vocabulary.
The Moonlight Meeting story is cute and the whimsical illustrations by Waymond Singleton should help budding readers follow along and be encouraged to learn new words as they turn pages. Fun facts at the end should satisfy the interests of kids who are drawn to nonfiction.
I highly recommend The Moonlight Meeting for readers aged 6 to 8 and their parents.
The publisher provided me with a copy of this book in exchange for my honest review.