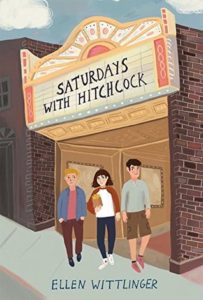 Life is complicated for 12-year-old Maisie. Her uncle has moved in with her family after getting injured while filming a movie in Hollywood. Her grandma is showing signs of dementia. She finds out that a boy "like" likes her. And her best friend reveals a secret that she doesn't know how to respond to. Changes are even afoot at the movie theater where she loves watching old films. Her own keen eye for details, combined with some wise advice from her uncle, just might help her navigate the uncertain times.
Saturdays With Hitchcock by Ellen Wittlinger delves into the pleasure and the pain of living through transitions. Maisie wishes everything could be simple and uncomplicated, the way it was before things started to change. But life isn't static, and changes can be both good and bad. She discovers that having strong friendships and family ties are what's most important when you need to adapt to unexpected circumstances.
Maisie is a strong character with keen observations about the people around her. She's relatable because she often doesn't know how to respond when new things come her way. She needs time alone and time talking things out before she decides what to do. In the end everything doesn't end up neat and tidy, but she has a clear idea of how to move forward. I recommend Saturdays With Hitchcock for mother-daughter book clubs and readers aged 9 to 12.
The publisher provided me with a copy of this book in exchange for my honest review.