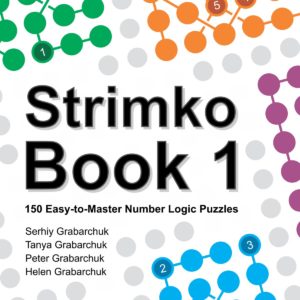 Strimko Book 1: 150 Easy-to-Master Number Logic Puzzles showcases a new type of puzzle invented in 2008 by the Grabarchuk family—Serhiy, Tanya, Peter and Helen. What is Strimko? The Grabarchuks describe it as a logic number puzzle based on the idea of Latin squares. Never fear, they explain how to solve them in the first few pages of the book.
As a puzzle fan, I found Strimko to be an interesting approach to a number puzzle. And I appreciated the guide highlighting nine different methods to solve the grid-based puzzles as well as an example of how it all works.
I liked working on the easier puzzles right away. The progressively harder grids present a challenge, but that's part of the fun. This easy-to-carry book is perfect to keep in the car for those times I end up with extra minutes before an appointment. The puzzles are also great to work on in other spare minutes throughout the day.
Answers are in the back in case anyone needs to check that they are on the right track. I recommend Strimko Book 1 for ages 7 and up.
The authors provided me with a copy of this book in exchange for my honest review.