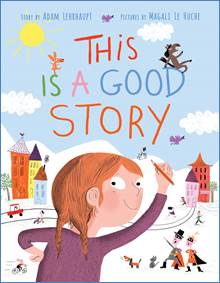 Telling a good story means knowing how a story builds, with a protagonist, a plot, a conflict and more. Children often learn the elements of storytelling in school, where they have to write for classwork. But what if they could learn it earlier, in a way that makes them think of storytelling as fun? That's the idea behind the picture book by Adam Lehrhaupt, This Is a Good Story.
The story begins with a girl creating a picture book with a hero and a heroine who live in a good town filled with good people. The plot heats up when an evil overlord attacks. A touch of whimsy is added when an omniscient reader gives the girl direction on what to draw and ideas on how to make her story better.
At the end, when the girl has finished her book to her own satisfaction, a list of the elements of story appears along with definitions. Pictures by Magali Le Huche are child-like, and it's easy to picture young readers being inspired by both pictures and words to want to create their own picture books when they read this one. I expect parents and kids both will love it.
The publisher provided me with a copy of this book in exchange for my honest review.