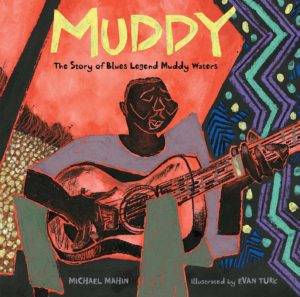 Blues legend Muddy Waters grew up in the Mississippi Delta, playing music on whatever he found at hand: an old accordion, a piece of wire, a beat-up can. His grandma tried to steer him away from music, saying, "you can't eat the blues for breakfast." But Muddy persisted. And when he got tired of earning little money for sharecropping, he moved to Chicago where his skill at playing the blues eventually gained him recognition.
His journey from child to musical trailblazer comes to life in a picture book called Muddy: The Story of Blues Legend Muddy Waters. Author Michael Mahin touches on the areas of Muddy's life that influenced his music, including gospel choirs, music at family picnics and juke joints, and the back-busting work of sharecropping. His move to Chicago exposed him to jazzy blues. But Muddy insisted on playing "deep-feling, gutbucket, gut-aching music full of life and love and trouble and pride." Muddy sang with his heart, and people loved it.
Evan Turks's illustrations flow like water and music in bold colors. And they give the essence of Muddy's experience from cotton fields and country churches to dance halls and city scenes. The result is a gorgeous picture book that parents and children will want to read again and again.
The publisher provided me with a copy of this book in exchange for my honest review.