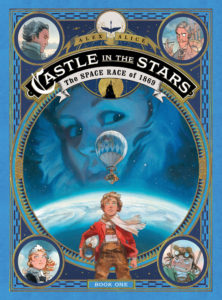 The time is the late 1800s. The place is Europe. Scientists want to find the mysterious element that will let man travel to space. Governments want to control it so they have power over others. One boy wants to follow in his mom's footsteps as an aviator and explorer to protect the elusive aether from those who would exploit it.
Castle in the Stars: The Space Race of 1869 by Alex Alice is a steampunk graphic novel that moves from Paris to Munich with scenes in Berlin. Young explorer Seraphin travels with his father to the castle in Bavaria where the king dreams of finding a way to fly. Seraphin forges a friendship with Hans and Sophie to protect the king from spies who would steal his plans.
The adventure is fast-paced with beautiful, detailed illustrations that detail flying balloons, lofty laboratories and a soaring castle. I recommend it for ages 9 to 13.
The publisher provided me with a copy of this book in exchange for my honest review.