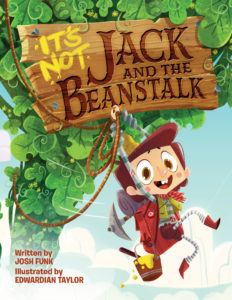 Jack really doesn't want to sell Bessie the cow, but the narrator of his tale says he must, so he must. Then he wants to eat his magical beans, but the storyteller says he must throw them out the window. And when he discovers he must climb the gigantic beanstalk, he wants to grab his climbing gear.
So goes the fractured fairy tale, It's Not Jack and the Beanstalk by Josh Funk. Cinderella makes an appearance while Jack climbs, and he develops a rapport with the giant, who prefers to go by his name, which is Fred. It's all good, silly fun that children are likely to love. Edwardian Taylor's illustrations are whimsical and funny as they show Jack interacting with an animated cow, winking magic beans, and a vegan giant dressed up with a bow tie. Other fairy tale figures make an appearance in the final scene, and children should enjoy naming characters from other familiar tales. Expect lots of laughs.
The publisher provided me with a copy of this book in exchange for my honest review.
Save
Save