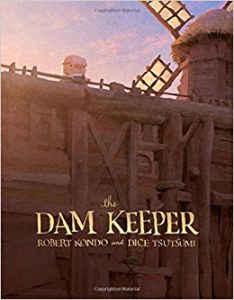 The dam is the only thing that keeps the deadly fog from rolling into Sunrise Valley. Pig's father built it before he disappeared into the void. Now Pig is responsible for keeping the fog at bay by tending the windmill dam. Not that the other townspeople appreciate what he does; they have forgotten what life without the dam was like.
But one day when Pig's friend visits and brings a bullying classmate, they all three get sucked out of their village and into the dark land. There they may find answers to turning back the fog for good. But can they trust the strange creature who says he can help?
The Dam Keeper by Robert Kondo and Dice Tsutsumi begins a graphic novel series about a responsible hero out to save his world. The illustrations are gorgeous, with muted colors and dark pages that reflect the dire times Pig, Fox and Hippo find themselves living in. First appearing as an Oscar-nominated short film, the graphic novel series brings the story to a whole new audience.
The story is full of mystery and adventure, with images emphasizing forces of light and dark, and while I believe the first book ended a bit abruptly, I find it a promising start with an interesting premise. I recommend The Dam Keeper for readers aged 9 to 12.
The publisher provided me with a copy of this book in exchange for my honest review.
Save
Save