Author Kate B. Jerome believes that children thrive when they have frequent conversations with caring adults. She also recognizes that modern life is often so busy that it's hard to find time to talk. So she created a line of children's books that she says "are intended to jump-start meaningful conversation between kids and adults that not only promote literacy but also contribute to a child's social and emotional development."
The series is called Read Together/Do Together, and the first two books in the line are currently available. The nice thing about these books is that they contain parts that are specific to where the reader lives.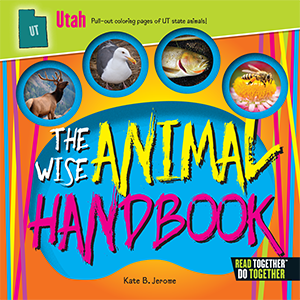 The Wise Animal Handbook showcases common animals photographed in activities that can be paired with lessons for people, young and old alike. For instance, a picture of a dog holding a rose is accompanied by text that reads, "Be quick to make amends." A photo of a grizzly covering his mouth with a paw reads, "Excuse yourself when manners slip."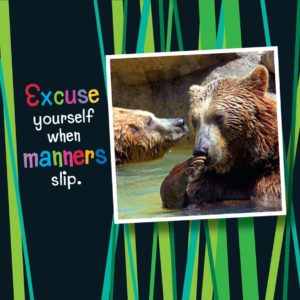 Kids are likely to find the photos funny, and they can talk about situations in their own lives that may apply. Personalization for an individual state comes on the cover and in pages to color in the back. The book for Oregon, where I live, features the name and outline of the state on the cover, along with photos of state animals (i.e., the state bird is the western meadowlark). Back pages for coloring include the meadowlark, along with the state animal (beaver), crustacean (Dungeness crab) and fish (Chinook salmon). Facts about the animal go with the line drawings.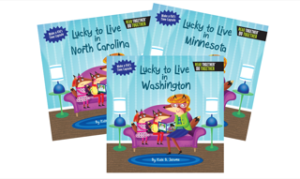 Lucky to Live In… is more specific to each state and is meant to be personalized with details from the child's life. For instance, one page reads, "Oregon roots keep me strong and it's really quite neat that the place they begin is my very own street." A fox holds a picture with the shape of Oregon and a U.S. map shows Oregon colored in. The next page has an illustration of a house. Copy reads, "Where I live," and, "It's close to," followed by white boxes meant for the reader to fill in. The bottom gives a fact: Oregon is in the northwest part of the United States.
The book contains information about places to explore, famous people born in the state, and more. Kids can fill in their favorite sports team, a family tree, and a hand tracing plus other activities. Instructions for creating a time capsule come at the end.
Both series should provide lots of fun while helping kids learn more about themselves, their families, and the place they live. I recommend books in the Read Together/Do Together series for children aged 4 to 7 (and their parents).
The publisher provided me with a copy of this book in exchange for my honest review.