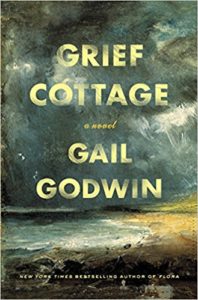 Gail Godwin's Grief Cottage is getting rave reviews, including my own. I found myself savoring the book as it went along, not wanting it to end.  That's why I'm happy to be able to offer my review along with one copy to give away to a reader in the U.S. To be eligible to win, simply leave a comment here by midnight (PDT), June 27, about why you like summer reading. Please note: The giveaway is closed. Congratulations to Kate on winning.
You may also be interested in NPR's interview with the author. Personally, I always like to hear an author's voice when I have the chance; it helps me get a feeling for her as a person. Now, here's my review.
Grief Cottage Review
When Marcus's mother dies suddenly in a car accident, he's sent to live with his only other living relative, his great-aunt Charlotte, on an island in South Carolina. All he knows about Charlotte is that he's heard she's an eccentric artist, and when he arrives he finds her standoffish.
Left on his own during the day while Charlotte paints, Marcus is soon fascinated by a decades-old mystery: what happened to the couple and their son who disappeared during a hurricane in the 1950s. The crumbling cottage they rented still sits at the tip of the island, and Marcus believes the boy's ghost inhabits it. What he discovers will resonate through the whole community.
Gail Godwin's Grief Cottage portrays a boy in search of family, security, love, and acceptance. Marcus is sensitive and responsible, having grown up with a single mom who struggled financially. He feels deeply his tenuous attachment to his aunt. As his only relative, she's also the only person keeping him from foster care and the instability being in the system may bring.
Godwin does a masterful job of portraying a sensitive character grieving for his mother, focusing on the ways he could have been nicer to her before she died, obsessed with solving a mystery, and desperate to feel loved and wanted. As he goes about his days and forms relationships with others on the island, he forges a new community for himself without even realizing the strength of those connections.
Grief Cottage is tender, sad, and hopeful. I highly recommend it for book clubs and individual readers.
The publisher provided me with a copy of this book in exchange for my honest review.
Save
Save
Save
Save