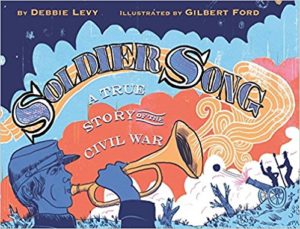 In December of 1862 America was in the midst of fighting the Civil War. Union and Rebel troops squared against each other near Fredericksburg, Virginia, then hunkered down for the winter. The soldiers of both sides felt demoralized because of their losses, and the conditions they lived in were dire. Music provided a main source of entertainment.
Each camp could hear music played by the other, and they often competed with patriotic songs supporting their cause. But one night, a single song spoke to the hearts on both sides.
That simple story is beautifully told in Debbie Levy's book, Soldier Song: A True Story of the Civil War. Levy is great at presenting nonfiction in a way that reads fluidly, weaving a tale that fascinates as it educates about history. She combines quotes taken from soldiers' letters home and lyrics from songs of the times with historical fact to capture readers' interest and hold on to it until the last page is turned. Then she follows up with a historical background that fills in the details of the Battle of Fredericksburg and the notable people who were there.
Levy also includes historical information about the song that inspired both sides, "Home Sweet Home," a timeline of the Civil War, a selected biography listing more books about the war for young people, and info on the quotes she uses. It all comes together in a way that should appeal to young readers who like to read nonfiction and satisfy fiction lovers as well.
Gilbert Ford's illustrations fit the mood of the text perfectly. Sometimes his drawings look cold and bleak, other times they flow softly like musical notes, and they capture well the fact that both young boys and older men fought the battles in the Civil War.
It's not easy to tell a story about that period in U.S. history without coming down firmly on one side or the other, but Levy has achieved that with this focus on something that united both armies: the thoughts of home and loved ones waiting there.
I highly recommend Soldier Song for readers aged 8 to 10.
The publisher provided me with a copy of this book in exchange for my honest review.
Save
Save