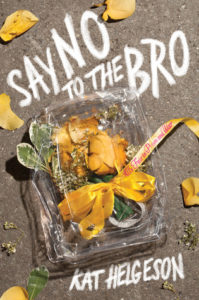 Ava's new in town, a senior in high school, and the daughter of her high school's football coach. Mark is the quarterback. There's an instant connection when they meet. But their budding relationship is put off balance by a school event called Prom Bowl. A tradition that's been going on for years, Prom Bowl raises money for the end-of-the-year dance by auctioning off senior girls as prom dates. Against her will, Ava is added to the list and starts competing in a game she doesn't even want to play.
Say No to the Bro by Kat Helgeson asks readers to look at traditions like the one in the story and consider whether they are still relevant or outdated in today's world. Ava just wants to get through senior year at her new school, not be in the spotlight for a contest she objects to. Other girls in the class are thrilled to be chosen for the list of auctionees. Ava wants to end the practice so girls don't have to get pressured to join in years to come. Others want to keep the tradition. It's an interesting look at the kinds of activities that were probably not questioned when they started decades ago, but that today may be considered sexist.
Also, light supervision from faculty at the school means events relating to prom bowl escalate what the girls are required to do. Even Ava gets caught up in competition, wondering how she can so no or limit what she's willing to do when others around her seem to happily comply. Mark also doesn't like what goes on for Prom Bowl, but he's pressured by his best friend to play along. Other forces at play come from teachers, Ava's dad, even the principal.
I found secondary characters in Say No to the Bro tended to be one dimensional, and the book could have easily been longer to explore some of the issues hinted at with Ava and Mark's friends and parents. But issues Ava and Mark deal with directly provide plenty of interesting food for thought. They are each pressured by their parents, their friends and society at large, and they struggle with knowing how to react to events they don't control. Anyone who has ever felt pressured to go along will surely relate. Ages 14 and up.
The publisher provided me with a copy of this book in exchange for my honest review.